Current wood window restoration technology makes the continued use of period windows cost effective and energy efficient.


We use timber frame restoration techniques which permit maximum conservation of the original historic fabric in a structurally sound repair.

Combining period carpentry techniques with intimate knowledge of local historic architecture.


Marlowe Restorations has been privileged to play a role in the restoration of these important historic buildings.

Links to conservation products, restoration services and to organizations which support the development of preservation technology.


Marlowe Restoration is a leader in applied wood conservation technology. We learn by teaching, by networking with artisan peers and by constant practice in the field.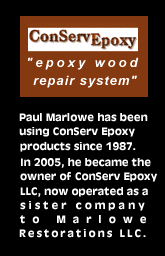 ---
Timber Frame Restoration & Repair
---
Incorporated into a Tudor style building, this white oak timber frame suffered from the direct exposure to the elements characteristic of that building design. Marlowe Restorations LLC takes a methodical approach to timber frame restoration. In the first image, below, detailed labelling of the frame can be seen, indicating precise corrections necessary. Subsequent images show these changes being made, using steel through bolts and plates to draw together and secure the joinery. Also shown are inserts and "dutchmen" let into the work to replace rotted areas. All inserts are made from salvaged white oak, thoroughly seasoned to a low moisture content. Previous to any repairs, all damaged areas are saturated with water borne preservative borates in order to prevent reoccurence of rot. All measures are taken to make sure that the moisture content is brought low enough after these treatments to successfully accept epoxy consolidants and fillers.
Corrections to the fit of the joinery are here precisely indicated before commencement of the work.
Plates and through bolts draw mortise and tenoned joints together.
A steel end plate is here deeply rabbeted so that it can be concealed in the work.
Same view as above, the steel end plate is buried under epoxy filler.
This repaired timber displays a seasoned white oak "dutchman" set in epoxy filler.
A workman removes all damaged or rotted wood back to sound material.
After application of borate preservatives, hair dryers are set up to bring the moisture content down to the level acceptable for installation of epoxy consolidants and fillers.
White oak inserts are here shown in place, for fitting only. They will be removed and reinstalled, fully bedded in epoxy.
Filler blocks are here pressed into a full bed of epoxy.