Current wood window restoration technology makes the continued use of period windows cost effective and energy efficient.


We use timber frame restoration techniques which permit maximum conservation of the original historic fabric in a structurally sound repair.

Combining period carpentry techniques with intimate knowledge of local historic architecture.


Marlowe Restorations has been privileged to play a role in the restoration of these important historic buildings.

Links to conservation products, restoration services and to organizations which support the development of preservation technology.


Marlowe Restoration is a leader in applied wood conservation technology. We learn by teaching, by networking with artisan peers and by constant practice in the field.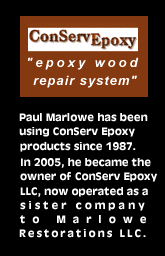 ---
Structural Sill Beam Replacement
---
Sill beams are typically the first structural elements of an historic timber frame to sustain damage, for any number of reasons. Bad drainage, splashback from runoff from the eaves or direct contact with masonry are just some of the causes. Marlowe Restorations LLC always strives to address the cause as well as the cure in order to prevent the problem from recurring. We will always make recommendations about runoff and drainage, where such alterations would affect performance. We customarily install a moisture barrier between masonry and sills. As shown by the examples below, we address all elements, including siding, trim and wall studs. In both examples shown, we used seasoned Douglas Fir because of its availibility, compressive strength and its moisture content. Native timbers are often not available fully seasoned and are therefore prone to shrinkage. Where historically necessary, however, we can find seasoned or salvaged native lumber to suit.
We repaired damage to the sills of the oldest schoolhouse in New Haven County, located in Northford, CT.
This historic cape, built c. 1790 in Cheshire, CT, had to be lifted very carefully in order not to damage interior tile and masonry.