Current wood window restoration technology makes the continued use of period windows cost effective and energy efficient.


We use timber frame restoration techniques which permit maximum conservation of the original historic fabric in a structurally sound repair.

Combining period carpentry techniques with intimate knowledge of local historic architecture.


Marlowe Restorations has been privileged to play a role in the restoration of these important historic buildings.

Links to conservation products, restoration services and to organizations which support the development of preservation technology.


Marlowe Restoration is a leader in applied wood conservation technology. We learn by teaching, by networking with artisan peers and by constant practice in the field.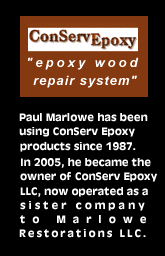 ---
Porch Restoration and Repair.
---
Added exposure to the elements promotes more rapid damage to porches and porch parts, relative to the rest of the building. On this page, we show three views of a repair to one corner of a porch built with solid, column sized porch post. We always try to restore damaged material, and resuse such elements as restorable lattices, decking and other elements. In the second picture, below, damage to the deck can be seen as well. Jacking a porch safely requires some planning and considerable care and is not just a matter of propping up the structure.
Here, three porch posts are ganged together and fixed prior to jacking, in order to maintain the relative position of all elements throughout the process. The load of this porch was considerable as there was a second story enclosed porch bearing upon its roof.
No damage to the deck was initially visible, but once the columns were removed, the rot beneath can be seen.
Here, epoxy patch renders the deck elements sound and stable.
The repair is completed, the heavy porch columns now bearing upon the original, restored bases and plinth.