Current wood window restoration technology makes the continued use of period windows cost effective and energy efficient.


We use timber frame restoration techniques which permit maximum conservation of the original historic fabric in a structurally sound repair.

Combining period carpentry techniques with intimate knowledge of local historic architecture.


Marlowe Restorations has been privileged to play a role in the restoration of these important historic buildings.

Links to conservation products, restoration services and to organizations which support the development of preservation technology.


Marlowe Restoration is a leader in applied wood conservation technology. We learn by teaching, by networking with artisan peers and by constant practice in the field.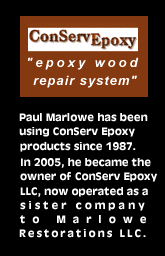 ---
Architectural Millwork Restoration
---
Decorative architectural millwork details from historical periods can be difficult to restore. We often find repairs which strive only to cover up the damage rather than to return the woodwork to its original soundness. Such repairs only accelerate the cycle of deterioration to the point where restoration may no longer be feasible. Here, we feature two examples where we had the opportunity to correct the damage exacerbated by such ill advised coverup repairs.
This ornate Victorian round turret base suffered from its exposed and inaccessible perch high above the sidewalk in New Haven. The elements settled on and behind this thick and ornate bottom rail, rotting it from behind. Such attention as it received in its first hundred years, layers of caulk and metal patch, was worse than no help.
We can restore almost any piece of wood, but it was not practical to restore the rotted bottom rail, so badly was it damaged. The replacement element shown here was formed from several bent cedar boards glued and laminated together at the proper thickness and radius.
Underneath a built in flower box, this ornamental bracket suffered from double exposure; direct from the elements and from moisture leaking through the box. Shown is the view of rot after removal of a metal patch previously installed to conceal the damage.
The whole in the bracket was big enough to accept a closed fist, but here it is completely and soundly repaired. In addition, the liner in the flower box, which had contributed to the problem, was made waterproof.