Current wood window restoration technology makes the continued use of period windows cost effective and energy efficient.


We use timber frame restoration techniques which permit maximum conservation of the original historic fabric in a structurally sound repair.

Combining period carpentry techniques with intimate knowledge of local historic architecture.


Marlowe Restorations has been privileged to play a role in the restoration of these important historic buildings.

Links to conservation products, restoration services and to organizations which support the development of preservation technology.


Marlowe Restoration is a leader in applied wood conservation technology. We learn by teaching, by networking with artisan peers and by constant practice in the field.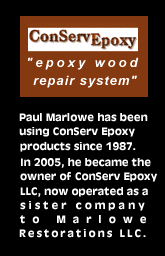 ---
Column Base Restoration
---
We are often called upon to restore damage to columns. The square plinths and bases that support the columns are especially prone to premature rot because of their proximity to splashback, slow drainage and poor ventilation. Our method is not only to correct the damage, but to address the conditions that created it, insofar as it is possible to do so. On this page, we show two typical examples of the condition and views of the remedial work in progress.
Rot in this New Haven, CT porch proceeded much further than the columns to compromise the framing itself.
The plinths and bases of the damaged columns are here shown in the shop being restored. All pockets of damaged wood are replaced with sound dutchmen inlays or patches of stable epoxy. Where split, the pieces are made whole again with doweled and glued joints.
The front of this portico had subsided, causing the builtin gutters to pool and overflow, thus adding to the drainage problems below. Columns were jacked in pairs, both to correct the gutter pitch and to free the damaged column bases.
Damage was not confined to the bases and plinths, but involved the column shafts.
Here is shown the completed sound repair, before painting. Note column plinth sits directly on masonry. An EPDM moisture break was installed between the wood and the masonry, to protect the wood from moisture condensing or pooling on the stone.