Current wood window restoration technology makes the continued use of period windows cost effective and energy efficient.


We use timber frame restoration techniques which permit maximum conservation of the original historic fabric in a structurally sound repair.

Combining period carpentry techniques with intimate knowledge of local historic architecture.


Marlowe Restorations has been privileged to play a role in the restoration of these important historic buildings.

Links to conservation products, restoration services and to organizations which support the development of preservation technology.


Marlowe Restoration is a leader in applied wood conservation technology. We learn by teaching, by networking with artisan peers and by constant practice in the field.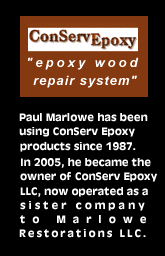 ---
Restoration Carpentry Skills and Techniques
---
By combining period woodworking techniques with intimate knowledge of local historic architecture, we are able to furnish repairs that seem to disappear into the original historic fabric.

The historic building tells its story during the process of dismantling. We seek to produce a repair that leaves the most original material in place.

We understand that what makes historic architecture unique is the unmistakable presence of the original craftsman plus the work of time, the elements and the unequal effects of gravity. Our goal is to restore to the building the structural stability that it requires to endure in service without depriving it of the distinctive character that makes it what it is. As a general rule, we seek to produce a sound durable repair that preserves as much of the original fabric as is economically feasible. In practice, we rely on the building itself to guide us towards the least invasive solution as we dismantle the damaged work.

We do not solely rely on traditional techniques to produce the most reliable and most appropriate repairs to period woodwork. We have available to us today a whole array of wood restoration and preservation techniques which allow us to restore damaged existing elements, often in place, thus preserving the original "patina" of the wood surface. We do not have readily available to us the high grade, highly durable first growth lumber used by the original craftsmen. Thus, restoration of the existing work using high tech materials is often the most practical and most aesthetically appropriate solution.

---

Our state of Connecticut has some of the most beautiful and historically significant architecture in the country. Tell us about your historic Connecticut building project, either by email or by phone at 203-484-9643.