Current wood window restoration technology makes the continued use of period windows cost effective and energy efficient.


We use timber frame restoration techniques which permit maximum conservation of the original historic fabric in a structurally sound repair.

Combining period carpentry techniques with intimate knowledge of local historic architecture.


Marlowe Restorations has been privileged to play a role in the restoration of these important historic buildings.

Links to conservation products, restoration services and to organizations which support the development of preservation technology.


Marlowe Restoration is a leader in applied wood conservation technology. We learn by teaching, by networking with artisan peers and by constant practice in the field.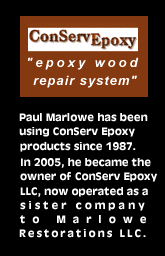 ---
Barn Conversion and Structural Restoration
---
For this barn restoration in Bethany, CT, Marlowe Restorations raised the entire timber frame above its old fieldstone foundation, suspending it on mudsills and temporary cribbing in order to correct subsidence in the foundation and the consequent stresses and racking in the frame itself. One structural timber plate, for example, was deflected 7 inches over just a 10 foot span. Marlowe restored the existing foundation, installing concrete footings and pads, where necessary. The restoration work was part of a barn conversion to a new recreational use. The architect specified a large span of window glass and doors out to a deck. To protect this glass, we placed a structural grade beam directly below, spanning the work, to protect it from any further foundation subsidence and consequent deflection. After restoring and reshaping the frame as necessary for structural stability, we replaced all original siding, windows and doors. To insure that all this new work remained dry and sound, we furnished a new flashing design around all wall openings. The wall flashing details in old barns were often casual, leading to water entry and damage of the type we saw in this building.
The timber frame was carefully jacked, reshaped and levelled as necessary for stability. Note use of level and hand winch.
This grade beam was installed to protect a large span of glass to be placed directly above.
All siding, windows and doors were replaced. Note details and hardware on the new swinging doors and on the sliding hay door, above.
Same swinging barn door, inside view.